News
>
News Releases
> Bellarmine's Incoming Freshmen Take Part in 'Knights in Action: Day of Service' at 28 Community Organizations
Bellarmine's Incoming Freshmen Take Part in 'Knights in Action: Day of Service' at 28 Community Organizations
August 16, 2011
Nearly 600 incoming Bellarmine University freshmen hauled away debris from last weekend's storm, read to children, cleaned community centers and cared for elderly citizens during the university's annual "Knights in Action: Day of Service" for new students on Tuesday.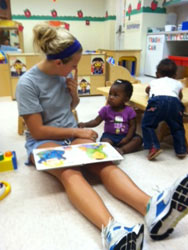 Freshman Charissa Murphy volunteers at the California Area Family Development Center, teaching Kyla to find her nose, mouth, eyes and ears.
See more photos
Charissa Murphy, a freshman from Mt. Washington, Ky., spent Tuesday morning working with children at the California Area Family Development Center. The day of service was an easy choice for her. "I just like working with kids," she said.
The day of service, organized by Bellarmine's
Student Affairs
office, helps out-of-town students become acquainted with their community, and prepares students for their studies at Bellarmine, where service to others will play a significant role in their education.
"What a wonderful way to open the new school year – a day of service throughout the city of Louisville," said Dr. Fred Rhodes, Bellarmine's vice president for Student Affairs. "The Knights in Action Day of Service connects students to the mission of the university through promoting the importance of serving others and the community."
Before the students departed campus for their service opportunities, they were greeted by
Louisville Mayor Greg Fischer
. "Great cities need caring citizens who volunteer their time in service to others," he said. "Since taking office in January, a commitment to civic volunteerism has been one of my priorities. I'm pleased that Bellarmine University has made service a priority for its students, and it's energizing to see hundreds of incoming freshmen step up to that challenge."
At
Joe Creason Park
, Bellarmine students cleaned up storm debris and helped with tree care. "Support from volunteer groups such as Bellarmine University has a tremendous impact on our community," said Andrew Brooks, volunteer coordinator for
Metro Parks
. "Volunteers help extend our resources and provide much needed attention to parks. With recent storm damage from this weekend, these Bellarmine students are lending a hand at a time when our parks need it most!"
Freshman Meghan Williams, a recent graduate of Christian Academy of Louisville, spent her morning at The Salvation Army's Center of Hope. "It was eye-opening," she said. "We washed the floors and beds in the men's shelter. It was so sad to see their belongings there -- the little they had."
The community organizations served by Bellarmine freshmen included:
California Area Family Development Center
Harbor House of Louisville
Classes begin for Bellarmine students on Thursday, August 18.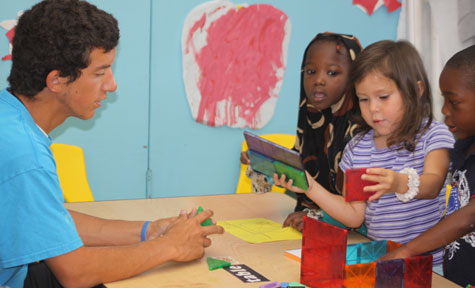 Service locations included the California Area Family Development Center
See more photos
Media Contact:
Jason Cissell
Director of Media Relations
502-272-8329
jcissell@bellarmine.edu