Bellarmine Students Visit Frankfort to Support Financial Aid
February 23, 2012
Three Bellarmine University students joined the college's financial aid director to meet with Kentucky lawmakers about student aid on Wednesday. The meetings came as state legislators are working on Kentucky's next budget.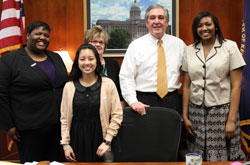 Lt. Gov. Jerry Abramson meets with (left to right) Kandice Ford, Kendall Ladrillono, Heather Boutell and Jazzmine Lynk.
The students -- senior Kandice Ford and freshmen Kendall Ladrillono and Jazzmine Lynk -- told government officials their Bellarmine education would not be possible without student aid.
The group, including financial aid director Heather Boutell, met with
Lt. Gov. Jerry Abramson
, and state representatives
Thomas Burch
,
Mary Lou Marzian
and
Reginald Meeks
. The lawmakers told Bellarmine's delegation that increases in state student aid funding were unlikely, but those funds were unlikely to be reduced.
"I really think we made a difference yesterday," said Lynk. "Tom Burch expressed he had never met anyone who received the aid we were given, and was deeply impressed that we all valued our education and benefited from the aid. Its great to know we have our legislators on our side!"
"Going to Frankfort was a great experience," said Ladrillono. "I was able to meet with a few very important people and show my gratitude for the financial aid I received and will continue to receive with their support."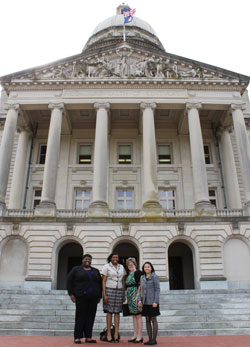 Bellarmine's delegation outside the state capitol.
"I was grateful for the opportunity to give a first-hand account to legislators of the benefits that financial aid has given me," said Ford. "Supporting higher education is important and I hope that the representatives know that us students are about our future and are able to fund it."
Bellarmine's delegation was in Frankfort along with other colleges as part of an awareness campaign organized by the
Association of Independent Kentucky Colleges and Universities
. The colleges are working to protect the
Kentucky Tuition Grant
, the
College Access Program
and the
Kentucky Educational Excellence Scholarship
.
More than 1,300 Bellarmine students from Kentucky receive a combined $4.8 million from those three state programs.
"It was great being in Frankfort sharing our message about higher education and the difference state grants and scholarships make," said Boutell. "I think the legislators appreciated meeting students that benefitted from their work. Everyone was supportive of higher education funding, yet cognizant of the budget issues the state faces as well."
Media Contact:
Jason Cissell
Director of Media Relations
502-272-8329
jcissell@bellarmine.edu