News
>
News Releases
> National Science Foundation Awards Data Research Grant to Bellarmine University
National Science Foundation Awards Data Research Grant to Bellarmine University
October 29, 2012
The
National Science Foundation
has awarded a highly competitive research grant to Bellarmine University to establish a state-of-the art advanced visualization and computational lab. This lab will enable large scale data-intensive collaborative research in high energy physics with the
CERN ATLAS experiment
using grid computing.
This visualization system will consist of a large 16-foot-wide tiled display wall connected to Bellarmine Universityís supercomputer and several data analysis workstations.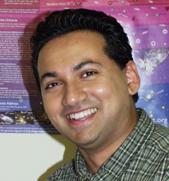 Dr. AK Mahmood
Dr. AK Mahmood, associate professor of physics, is Bellarmine's principal investigator for the $209,347 grant.†The research tasks will be carried out in collaboration with University of Oklahoma, State University of New York at Albany and Susquehanna University.†This research grant was funded by the National Science Foundationís
Directorate for Computer & Information Science & Engineering
under the Obama Administrationís
Big Data Research and Development Initiative
, which aims to advance the scientific and technological means of managing,†analyzing, visualizing and extracting useful information from large data sets.
The National Science Foundation recently implemented new initiatives focused on advancing the vision of data-intensive science, including new methods to derive knowledge and information from fast-growing volumes of data, and workforce development programs to prepare the next generation of data scientists in the United States.
"We are indeed very fortunate to receive this prestigious NSF award," said Mahmood. "In fact, it is the only research instrumentation grant award made in Kentucky by NSF in 2012. Scientific research these days is becoming increasingly data-intensive and collaborative, and scientific inquiry in the 21st century will depend in large part on data exploration. Not only will this award allow us to conduct our research and visualization tasks with our research collaborators in a timely fashion, but it will also enable us to train undergraduate students at Bellarmine to use advanced visualization techniques for extracting useful information from large complex data sets. Moreover, using the new visualization system, we can potentially transform cyber-learning using 'big data.'"
This visualization system could also substantially advance the physics departmentís research output. Since 2010, Mahmood has received three prestigious grants from NSF totaling over $1 million.
Media Contact:
Jason Cissell
Director of Media Relations
502-272-8329
jcissell@bellarmine.edu