News
>
News Releases
> Bellarmine researchers study impact of exercise on knee surgery recovery, prostate cancer screenings
Bellarmine researchers study impact of exercise on knee surgery recovery, prostate cancer screenings
January 9, 2013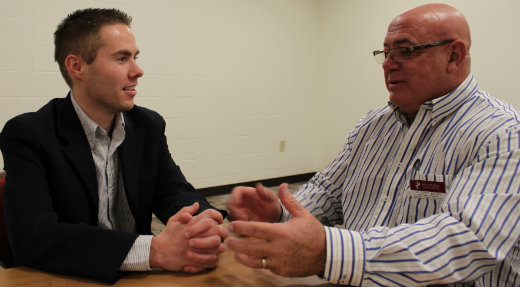 Dr. Paul Loprinzi, left, and Dr. Kent Brown, of Bellarmine University's exercice science department
Bellarmine University researchers are working to expand our understanding of the benefits of exercise as we age or become ill. Faculty members in the
exercise science department
were recently lead authors on three published studies about exercise's impact on
recovery from knee replacement surgery
and
prostate cancer testing results
, as well as the
benefits of exercising in short intervals
. Each study is summarized below.
"The application, timing and administration of proper exercise programs is critical for wellness and prevention," said Dr. Kent Brown, chair of the exercise science department. "It is important for exercise science students and professionals to create interdisciplinary teams that are efficient and cost effective. Our goal here at Bellarmine is to bring together students from different programs to work in a collaborative manner in order to help Louisville area residents enhance their overall health, fitness, and well-being, to improve their quality of life."
Bellarmine's exercise science major -- part of the
Donna and Allan Lansing School of Nursing and Health Sciences
-- currently has 212 undergraduate students. The program prepares students to be advocates for community wellness through careers and graduate school opportunities in healthcare, fitness and wellness. The curriculum emphasizes the role of the exercise specialist in the prevention of disease through physical activity and health awareness.
Exercise and knee replacement surgery
Dr. Kent Brown, chair of the exercise science department, found that adults who exercise in the weeks leading up to knee replacement surgery report a higher health-related quality of life following the surgery. His work was
published in the December 2012 issue of the journal Perceptual and Motor Skills
.
Eight weeks before surgery, patients were assigned three 45-minute exercise routines per week. Three months after the surgery, patients who participated in the exercise programs reported better physical function, less pain, and more vitality than the group which was not assigned the exercise program.
The study was co-authored by Robert Topp of Marquette University, Dr. Joseph A. Brosky of Bellarmine University, Dr. A. Scott LaJoie of the University of Louisville.
Exercise in short intervals
Dr. Paul Loprinzi, assistant professor of exercise science, recently studied the benefits of exercising in intervals of just 10 minutes, several times a day. His research,
published in the January/February 2013 issue of the American Journal of Health Promotion
, found little difference in health outcomes for subjects exercising in brief intervals compared to those who exercise in longer, uninterrupted intervals.
"One of the primary objectives of my research is to promote physical activity for lifelong health and well-being," said Loprinzi. "Given that adults in today's modern society are working longer hours and at a faster pace, engagement in physical activity is often difficult due to the perception of insufficient time and energy to engage in structured, longer bouts of exercise. My recent work shows that adults who perceive themselves as having little time to exercise may still be able to enhance their health by adopting an active lifestyle approach, such as taking the stairs instead of the elevator, or finding the opportunity to be active when the choice is available."
The study analyzed data from 6,321 participants ranging in age from 18 to 85 years. It was co-authored by Dr. Bradley Cardinal of Oregon State University.
Exercise's impact on PSA screening
Loprinzi also recently studied the impact that periods of exercise can have on the results of prostate-specific antigen (PSA) testing in men.
In the January 2013 issue of Mayo Clinic Proceedings, Loprinzi's article
-- labeled an editor's choice -- reports that exercise can result in lower PSA levels.
"For every one-hour increase in 'lifestyle' physical activity, adults were 18 percent less likely to have an elevated PSA level, a commonly used screening marker for prostate cancer," said Loprinzi. "Additionally, for every one-hour increase in sedentary behavior, participants were 16 percent more likely to have an elevated PSA level. Having an elevated PSA level does not necessarily indicate a positive diagnosis of prostate cancer, but these findings do indicate that physical activity influences PSA levels and therefore, clinicians should take into consideration their patient's physical activity level when interpreting PSA measurement."
Dr. Loprinzi plans further research in the association between physical activity and PSA levels. The current study analyzed data from 1,672 adult male participants in the National Health and Nutrition Examination Survey. It was co-authored by Dr. Manish Kohli from the Division of Medical Oncology at the Mayo Clinic
Media Contact:
Jason Cissell
Director of Media Relations
502-272-8329
jcissell@bellarmine.edu