News
>
News Releases
> Rep. John Yarmuth takes part in immigration reform discussion on April 8
Rep. John Yarmuth takes part in immigration reform discussion on April 8
March 28, 2013
UPDATE (4/8/13)
: Rep. Yarmuth is unavailable this evening; State Sen. Morgan McGarvey will address legislative issues in his absence.
A panel of experts including
U.S. Rep. John Yarmuth
(D-Ky.) will discuss various perspectives of immigration reform on April 8 at Bellarmine University.
The panelists:
U.S. Rep. John Yarmuth, Representative of Kentucky's Third Congressional District, will share his perspective on the legislative outlook for immigration reform.
State Sen. Morgan McGarvey (D-19), who will discuss Kentucky's human trafficking bill.
Dr. J. Milburn Thompson, a professor in Bellarmine's Department of Theology, will present an overview of the Catholic Church's teaching on immigration.
Sister of Loretto Lupe Arciniega will share her experiences working with immigrant communities, families and individuals.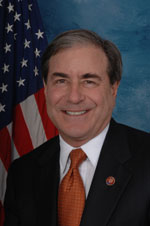 Rep. Yarmuth
This free event takes place on Monday, April 8, 2013, in Hilary's, on the first floor of Horrigan Hall at Bellarmine University, with registration at 5 p.m. The program, which begins at 5:30 p.m., includes an opportunity for attendees to ask questions. [
campus map
]
In addition to the panelists, representatives from several local organizations will be available to share information and answer questions. They include: Catholic Charities Legal Services, Kentucky Refugee Ministries, Jewish Family and Career Services, the Cabinet for Health and Family Services, the Center for Women and Families, and La Casita Center / Casa Latina.
For additional information about the event, please contact Joanne Weis at 502/267-8120 or
via email
.
This event is co-sponsored by Bellarmine University's Department of Theology and the Women's Leadership Council for Religious Freedom, a Catholic group whose membership is open to women and men of all denominations.  One of the council's goals is to support the role of government in ensuring that all people have the opportunity for growth and development, with specific focus on the poor and most vulnerable members of society.
Bellarmine University is a Catholic co-educational liberal arts institution in Louisville founded in 1950. The Department of Theology's expressed mission is to provide students with the study of theology, comparative religions, spirituality, morality and social justice, and to develop their communication and critical thinking skills.
Media Contact:
Jason Cissell
Director of Media Relations
502-272-8329
jcissell@bellarmine.edu