Bellarmine to award 568 degrees on Saturday, May 11
May 10, 2013
Bellarmine University will award 568 undergraduate and graduate degrees at its spring
commencement ceremony
on Saturday, May 11, at noon in Knights Hall.
The university's 60th annual spring commencement will feature a commencement address by Lt. Col. Kenny Lynn Harryman, a Bellarmine alumna who received a Bronze Star for meritorious service in Afghanistan.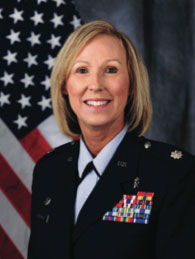 Lt. Col. Harryman
Harryman graduated from Bellarmine in 1993, and joined the Army to practice nursing. "The plan was just to do my time, get the kids through school and go from there," she said. "But I wound up liking it, and I stayed."
She transferred to the Air Force in 2008, where she was chief nurse for a forward operating base in Afghanistan, near the border with Pakistan. At that base, she ran a team of nearly 40 nurses and support staff, operating on a mix of wounded U.S. soldiers, Afghan police, and civilians caught in combat, achieving a 98 percent survival rate.
After Afghanistan, she was put in charge of Germany's Landstuhl hospital, overseeing a staff of 245 people. She is currently commander of an Air Force base in the Azores Islands.
In addition to delivering the commencement address, Harryman will receive an honorary doctor of humane letters degree. Joe and Carol Ferguson -- two Louisville residents who gave meaning to their family motto, "Learning is power," by creating education trusts for their six grandchildren and two great-grandchildren -- will also receive honorary doctor of humane letters degrees.
Two ambitious students, MaryAnn Mullins and Arielle Weber will celebrate a rare accomplishment when they walk across the Knights Hall stage to collect their diplomas on Saturday. Both are graduating with four majors. Mullins will earn bachelor's degrees in actuarial science, economics, business administration and psychology, while Weber will earn bachelor's degrees in psychology, theatre, philosophy, and foreign languages and international studies.
At Saturday's commencement, Bellarmine will award 470 undergraduate and 98 graduate degrees. For the full 2012-13 academic year, Bellarmine has awarded 785 total degrees.
Media Contact:
Jason Cissell
Director of Media Relations
502-272-8329
jcissell@bellarmine.edu