News
>
News Releases
> Ill nursing student receives diploma in impromptu hospital ceremony
Ill nursing student receives diploma in impromptu hospital ceremony
June 12, 2013
Sarah Turi missed May 2013 Commencement after sudden illness
After four years of hard work, Sarah Turi was looking forward to hearing her name called as she walked across the Knights Hall stage to collect her bachelor's degree in nursing, cum laude, on Saturday, May 11.
Her body had other plans.
The evening before graduation, after experiencing some pain, Sarah was admitted to the hospital for what became a six-day stay.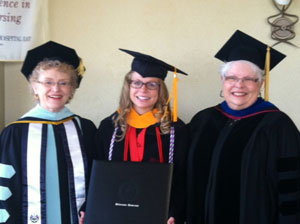 Sarah Turi, center, receives her diploma from Dr. Sue Davis, left, and Dr. Beverley Holland, right.
She asked her parents to contact Dr. Kathy Hager, assistant professor of nursing, so the program's faculty wouldn't think she had skipped out on Saturday's commencement ceremony. Hager talked with her fellow faculty members, and they decided that if Sarah couldn't be at commencement, commencement would have to come to Sarah.
On Sunday, the morning after commencement, Sarah received some visitors: Dr. Sue Davis, outgoing dean of the
Donna and Allan Lansing School of Nursing and Health Sciences
, and Dr. Beverley Holland, associate professor of nursing, came to
Baptist Health Louisville
to present Sarah's degree.
"They not only came to the hospital in their full regalia, but presented me with my diploma in the lobby in front of the hospital staff and a few family members," said Sarah, who was able to remove her IV and change clothes for the impromptu ceremony. "Other patients and families even stood in the hallway to watch!
"Dr. Davis read Dr. McGowan's commencement speech and called my name to accept my diploma, and as Dr. Holland handed it to me, I could not imagine a more special presentation. Through tears and smiles my family was able to see me receive my diploma and my dream became a reality through the kindness of my professors."
"We never thought about
not
doing it," said Davis, who asked Bellarmine's registrar for permission to hand-deliver Sarah's diploma. "We were heartsick that she missed commencement. Students work really hard for this, and so do faculty, so it's what we do for students. It's who we are at Bellarmine."
Davis added that Hager, who visited her former student each day she was in the hospital, suggested the hospital presentation but was unable to attend.
"[Davis and Holland] both immediately said yes - on Mother's Day," noted Hager. "We all agreed that Sarah is an extra special person, but I can tell you that both of them would have done it for any of our Bellarmine nurses, because that is the way they are. In this case Sarah Turi is so so deserving. She is a person who will always be there in the same way for her patients."
In a letter to President McGowan, Sarah's parents, Tom and Gail Turi, wrote: "All the available floor medical staff and family present witnessed the ceremony, and there wasn't a dry eye to be had. Everyone knew, only at Bellarmine would such care and attention to one individual student's personal need occur. The value of attending Bellarmine for its academic excellence, athletic programs, and sincere caring community has been a priceless experience."
Sarah, who's feeling much better these days, adds: "Anyone can go to any school, but it is incredible to find a school that truly carries you from the beginning to the end and every bit in between. I am still overwhelmed by the effort that was made to allow me to experience one of the most special moments and milestones in life."
Media Contact:
Jason Cissell
Director of Media Relations
502-272-8329
jcissell@bellarmine.edu