Move-in day: Bellarmine's largest-ever freshman class arrives
August 17, 2013
Convocation remarks by Dr. Joseph J. McGowan, Bellarmine's president.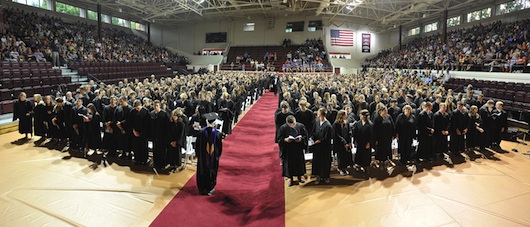 Academic convocation ceremony. Click image to enlarge.
Click to read #BellarmineBound social media stories.
Assisted by swarms of returning students, along with faculty and staff, hundreds of freshmen moved into Bellarmine University's residence halls today.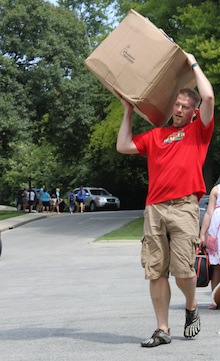 Dr. Paul Kiser
Carrying luggage, full-length mirrors, posters, laptops and stacks of textbooks, freshmen climbed stairs to their rooms, followed by parents, siblings, and a few grandparents.
About 80 percent of Bellarmine's 685 freshmen will live in Bellarmine's residence halls this fall. The class of 2017 is 13 percent larger than any other freshman class in Bellarmine's history.
Dr. Paul Kiser, an assistant professor of biology, helped students carry boxes into the residence halls. "I always volunteer during move-in day, to help demonstrate what a welcoming community Bellarmine is," he said. "It's a nice chance to meet some of the students I'll work with in the Galileo Learning Community."
Galileo is one of five
learning communities
, a relatively new phenomenon at Bellarmine. This year, one in four freshmen are enrolled in a learning community, which bring together students with similar interests and create environments where students are committed to each other's personal and academic success.
Patricia Gibson, a freshman from Hodgenville, Ky., said the day's highlight was "definitely seeing my dorm all unpacked and ready!"
Moving into the residence halls was only one part of a big first day on campus. Saturday afternoon, students enjoyed a picnic and signed Bellarmine's matriculation book, and that evening they took part in an academic convocation ceremony.
After a convocation mass on Sunday, freshmen will begin several days of orientation activities before classes begin on Thursday.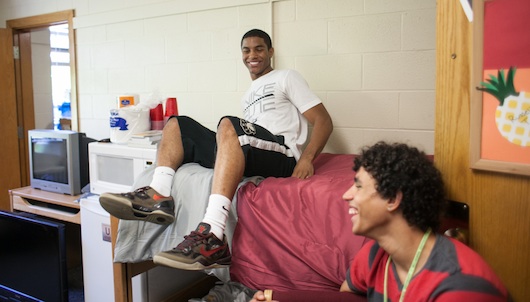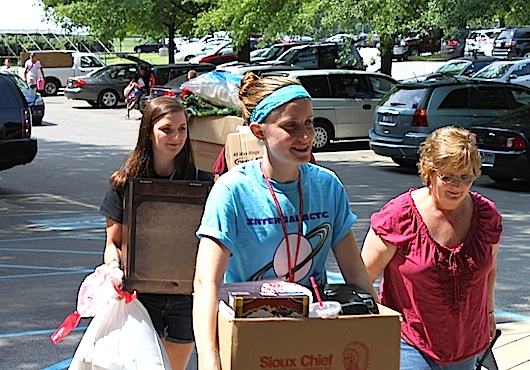 Media Contact:
Jason Cissell
Director of Media Relations
502-272-8329
jcissell@bellarmine.edu