News
>
News Releases
> Carrie Lingscheit's artwork on display in McGrath Gallery until September 20
Carrie Lingscheit's artwork on display in McGrath Gallery until September 20
September 10, 2013
Artist has recently staged exhibitions in China, Russia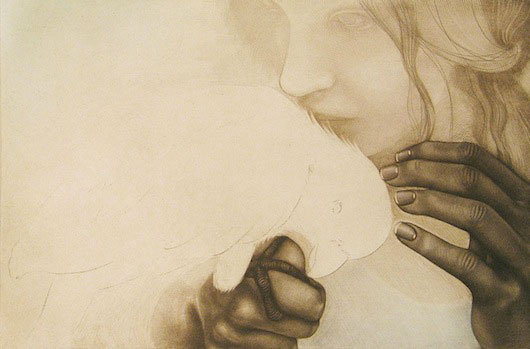 Drawings and intaglio prints by Chicago artist Carrie Lingscheit are on public display in Bellarmine University's McGrath Gallery, in the Wyatt Center for the Arts, through September 20. The free exhibition is sponsored by Bellarmine's
Art Department
.
On September 20, Lingscheit will deliver a lecture in Pasteur Hall room 180 at 5 p.m., followed by a reception in the McGrath Gallery from 5:30 p.m. to 7 p.m.
Bellarmine's McGrath Gallery is open Monday through Friday from 11 a.m. to 6 p.m., and Saturday from noon to 4 p.m. All McGrath art events are free and open to the public.
Lingscheit's work explores the malleable nature of memory formation and recall. Lingscheit said: "I have long been interested in how identity is tangled up in past experience. As perception and remembrance are imperfect, our every moment is subject to omission as well as misinterpretation and embellishment by the imagination or by emotion."
Lingscheit received her bachelors of fine arts from the University of South Dakota in 2006 and her masters of fine arts from Ohio University in 2010. She is originally from South Dakota and currently lives in Chicago.
Lingscheit's work has been included in numerous national and international exhibitions and in dozens of invitational exchange portfolios. Lingscheit recently held exhibits in Russia and China.  For more information on her work, visit
http://www.carrielingscheit.com
.
For more information on the exhibition, contact Laura Hartford at
lhartford@bellarmine.edu
.
Bellarmine University is located at 2001 Newburg Road, Louisville KY, 40205. [
Campus map
| the Wyatt Center for the Arts is building 4 on the campus map and Pasteur Hall is building 2]
-- News release prepared by Dakota Branham, media relations intern
Media Contact:
Jason Cissell
Director of Media Relations
502-272-8329
jcissell@bellarmine.edu