Bellarmine launches 'Big Data' education initiative
October 5, 2013
• Institute for Advanced Analytics to offer interdisciplinary degrees, housed in new 'Centro' building
• $1 million Humana Foundation gift to fund position leading the program's development
VIDEO: See Centro, inside and out.
As job openings in "Big Data" are growing much faster than the market can fill them, Bellarmine University is launching a new institute to develop degree programs in data analysis, and raising money for a major new facility to house the program as it grows.
The
Humana Foundation
has provided a multi-year gift totaling $1 million that will allow Bellarmine to hire a leader for the institute to develop and oversee the program. This includes designing the facility, developing a curriculum and hiring faculty.
'BIG DATA' DEGREES


The first degree offered through the Institute for Advanced Analytics ail be a graduate program, launching in Fall 2014. For more information, contact the Office of Graduate Admission at 502/272-7200 or via email.


The Institute for Advanced Analytics, opening next fall, will prepare graduates for careers in Big Data by:
offering new informatics and technology degrees at the undergraduate, graduate and continuing education levels.
working to develop interdisciplinary data analysis programs that are relevant to areas of study within Bellarmine's existing schools -- including nursing and health sciences, communication, education, business and environmental studies.
incorporating an entrepreneurial component that will focus on healthcare informatics to draw upon the wealth of experience and opportunity available in the Louisville market.
ensuring that core information management and technology lessons are integrated into the liberal arts experience offered to every Bellarmine student, regardless of major.
"The Institute for Advanced Analytics is an exciting growth opportunity for Bellarmine University and its students," said Michael B. McCallister, chairman of
Humana Inc.
and the Humana Foundation. "We are delighted to be part of an innovative effort that will benefit the health and well-being of the larger community as well."
The institute will be housed in Centro, a planned addition to the university's Horrigan Hall. The institute and Centro are both part of
Vision 2020
, a plan for Bellarmine to become the leading private university in the commonwealth and region, announced in 2005. Since that year, Bellarmine's enrollment has grown 34 percent, its full-time faculty has grown by 37 percent, and it has added 23 new degree and certificate programs and eight new or expanded buildings.
PROGRESS UNDER VISION 2020


Bellarmine University is growing into a nationally preeminent private university of significant size and stature.

Since Vision 2020 was launched in 2005, Bellarmine has:
• Increased enrollment by 34 percent, to 3,422.
• Increased the number of full-time faculty by 37 percent, to 156.
• Increased the university's endowment by 80 percent, to more than $40 million.
• Launched two new schools: Communication and Environmental Studies.
• Created 23 new degree and certificate programs, including new doctoral degrees in education and nursing.
• Increased the number of students living on campus by 50 percent, to 1,100.

More info: www.bellarmine.edu/vision


"In addition to educating the skilled technology workers needed to manage the flow of Big Data, Bellarmine's liberal arts curriculum positions us to prepare the next generation of leaders and decision makers for a region and world where corporations, governments, educators and non-profits will thrive or perish based on their ability to understand and use Big Data," said
Dr. Joseph J. McGowan
, president of Bellarmine University. "Data literacy is part of a liberal arts education."
The Institute for Advanced Analytics will prepare graduates for careers as data scientists who can analyze Big Data, information technology professionals who can design and operate systems to house massive quantities of data, business leaders who can use Big Data to drive decision-making, health care workers who can use data to enhance patient care, and educated workers in a variety of liberal arts fields who can understand how Big Data influences their work.
At McGowan's request, Tom Thomas -- a Bellarmine trustee and experienced technology entrepreneur -- and Dr. Doris Tegart, Bellarmine's provost, are leading the working group that is developing the institute. Thomas is a Bellarmine alumnus who has served as chief information officer of Dell and 3Com, and executive chairman and CEO of International Decision Systems.
Big Data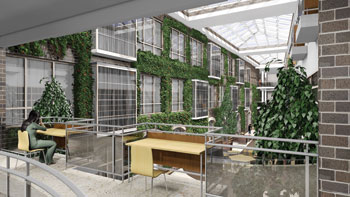 Atrium connecting Centro to a renovated Horrigan Hall
Big Data, the massive quantities of digital information generated by millions of digital media platforms, is presenting new challenges for organizations that need to harness data to drive decision-making, but lack the infrastructure and expertise to accomplish that task.
By 2018, the Bureau of Labor Statistics projects more than 2 million new technology jobs will be created. However,
experts predict the United States could face a shortage of nearly 200,000 workers
with advanced data analysis skills. The nation will also need an additional 1.5 million managers and analysts with expertise in making decisions based on the Big Data being collected.
"In the span of a few decades, the world has been transformed by the proliferation of data," said Dr. Michael Rappa, executive director of
North Carolina State University's Institute for Advanced Analytics
. "The effects are now being felt in virtually every sector of the economy. The result is a burgeoning demand for data-savvy professionals who can lead their organizations forward. Innovative educational programs like the one proposed at Bellarmine University are exactly what is needed today. It is certain to be a winning opportunity for Bellarmine students."
Centro
The Institute for Advanced Analytics will ultimately be housed in Centro, a planned three story, $25 million, 47,300-square-foot building connected by an atrium to a completely renovated Horrigan Hall. In addition to transforming the appearance of Bellarmine when viewed from Newburg Road, the Centro project will create space for:
the Institute for Advanced Analytics.
the W. Fielding Rubel School of Business, including a new Graduate School of Management focused on MBA programs.
an expanded career services office, to help students and alumni with career planning, internships and job placement.
an expanded campus ministry office.
new admission welcome center to greet prospective students and their families.
Centro will be located in front of Horrigan Hall
The project also features a 4,100-square-foot addition to the south end of Horrigan Hall. This section will be renamed Treece Hall to honor Msgr. Raymond Treece, Bellarmine's first vice president. It will feature an expanded bookstore, renovated administrative offices and a new student service center housing the registrar, bursar and financial aid office.
Connecting Centro, Horrigan Hall and Treece Hall, a dramatic atrium will provide an attractive space for students to gather or study.
"Centro will allow Bellarmine to prepare students for the challenges of the 21st century and beyond," said McGowan. "In an expanded school of business, students in our foundational programs will rise to even greater levels of excellence. A new Institute for Advanced Analytics will bring great synergy and interdisciplinary breakthroughs. This project is an important investment in our students and a critical investment in the future success of our community, region and world."
Centro is the top priority of a $100 million capital campaign currently underway by Bellarmine University.
About the Humana Foundation
The Humana Foundation was established in 1981 as the philanthropic arm of Humana Inc., one of the nation's leading health care companies. Located in Louisville, Ky., the site of Humana's corporate headquarters, the Foundation's mission is to promote healthy lives and healthy communities. The Foundation's key funding priorities are childhood health, intergenerational health, and active lifestyles. For more information, visit
www.humanafoundation.org
.
Humana and the Humana Foundation are dedicated to Corporate Social Responsibility. Our goal is to ensure that every business decision we make reflects our commitment to improving the health and well-being of our members, our associates, the communities we serve, and our planet.

Media Contact:
Jason Cissell
Director of Media Relations
502-272-8329
jcissell@bellarmine.edu