News
>
News Releases
> Bellarmine Campus Features New Sculpture of St. Robert Bellarmine
Bellarmine Campus Features New Sculpture of St. Robert Bellarmine
October 12, 2010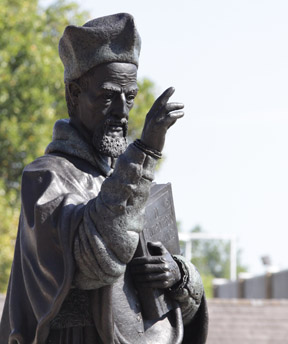 Video:
Sculpture being installed on campus
Video:
Interview with sculptor Bob Lockhart
Article:
Story about the sculpture, from Fall 2008 edition of Bellarmine Magazine
The saint for whom Bellarmine University is named is getting a little more notice on the school's picturesque campus these days.
To celebrate Bellarmine University's 60th anniversary, a 10-foot sculpture of St. Robert Bellarmine has been prominently installed outside the W.L. Lyons Brown Library. The sculpture features Bellarmine standing over an Italian village modeled after his birthplace, Montepulciano. The village includes elements from Rome, where he lived and worked.
The 2,400 pound sculpture has Bellarmine holding his influential book,
De Controversiis Christianae Fidei
, in which he addressed the major theological controversies of his day.
Bellarmine art professor Bob Lockhart created the sculpture in his Crescent Hill studio over the past three years. Starting with a smaller clay model, Lockhart agonized over details such as the texture of the hands, and Bellarmine's attire, which required consultation with Jesuits in Rome. Lockhart let his own beard grow for six months when he found himself dissatisfied with his first attempt to sculpt Bellarmine's facial hair.
Lockhart found his subject matter fascinating. "St. Robert Bellarmine could have been royalty, but he lived as a pauper," said Lockhart. "They say he ate water, bread and garlic. Everything in his home was given away to the poor. When you read about this individual, there are so many different sides to him that intrigue me as an artist."
Another major Lockhart work, a Bellarmine Knight riding atop a horse, is a short distance away from the new St. Robert Bellarmine sculpture.
"This wonderful sculpture will delight and inspire Bellarmine students, faculty, staff, alumni and visitors for generations to come," said Dr. Joseph J. McGowan, president of Bellarmine University. "It calls to mind the prayer Bellarmine wrote, which gave us our foundational motto,
In Veritatis Amore
, or In the Love of Truth."
The bronze sculpture was cast at Louisville's Bright Foundry, run by Jep Bright, who is the son of noted Louisville sculptor Barney Bright. It is a gift from Colleen Liebert, a member of Bellarmine's Women's Council, in memory of her husband, Dennis Liebert, who was a close friend of McGowan. The sculpture was formally unveiled last weekend, during a fundraising event on campus.
About St. Robert Bellarmine
Roberto Francesco Romolo Bellarmino (1542-1621) was a scholar, a cardinal, a saint and one of only 33 Doctors of the Church. He was born in Montepulciano in the Tuscany region of Italy and entered the Society of Jesus (Jesuits) at age 18. Ordained a priest in Belgium in 1570, he returned to Rome six years later as a professor at the Roman College.
Bellarmine was a distinguished theologian who argued the Church's position on controversial issues such as the divine right of kings and Copernican theory. He was an early rector of the Gregorian University and considered for Pope in three different conclaves. His mortal remains are enshrined at the Church of St. Ignatius in Rome. He was canonized as a saint by Pope Pius XI in 1930.
About Bellarmine University
Bellarmine University is an independent Catholic university offering more than 50 majors, as well as graduate degree programs, a doctor of nursing practice and a doctor of physical therapy. U.S. News & World Report and the Princeton Review consistently rank Bellarmine among America's best institutions for higher education. The university is celebrating 60 years of academic excellence for lives of leadership and service.
Media Contact:
Jason Cissell
Director of Media Relations
502-272-8329
jcissell@bellarmine.edu