News
>
News Releases
> Louisville Mayor Jerry Abramson Joins Bellarmine University as Executive-in-Residence in 2011
Louisville Mayor Jerry Abramson Joins Bellarmine University as Executive-in-Residence in 2011
October 20, 2010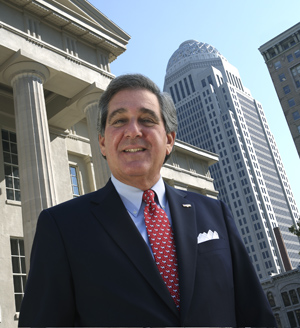 When longtime
Louisville Mayor Jerry E. Abramson
leaves Metro Hall in January 2011, he will join Bellarmine University as an executive-in-residence, teaching classes on leadership and civics, and organizing lectures and workshops.
"Our mayor is one of the commonwealth's most dynamic elected leaders, and an astute student of politics," said Dr. Joseph J. McGowan, Bellarmine's president. "He is deeply connected to an impressive national network of fellow public servants and keen observers of politics on both sides of the aisle, and we look forward to the inclusion of many of these individuals in his teaching, lecturing and panel discussions at Bellarmine. He is a formidable intellectual resource who will help prepare his students for lives of great leadership and service."
In the Spring 2011 semester, Abramson will teach two classes in Bellarmine's interdisciplinary general education program:
U.S. Leadership, which will offer students the opportunity to meet a variety of proven leaders as they develop their own leadership and critical thinking skills.
Place Still Matters, which will explore the challenges and opportunities facing American communities during a time of rapid change.
Abramson will draw on his extensive network of elected, civic and business leaders to offer a variety of perspectives during his classes and other campus lectures throughout 2011. He will also be available as a guest lecturer for other classes at Bellarmine, in areas such as business administration, educational leadership, communication, pre-law, political science, environmental science, and health policy. He will have office space in Bellarmine's W.L. Lyons Brown Library.
"I'm excited to share some of the lessons I've learned in more than two decades of public service with the leaders of tomorrow," Abramson said. "I look forward to doing my part to inspire students and increase educational levels in our community."
Last week, Abramson joined education, community and civic leaders to announce a public-private partnership called
55,000 Degrees
, a landmark effort to increase the number of citizens pursuing and obtaining college degrees in Louisville. McGowan and Bellarmine University are founding members of the initiative.
Abramson holds a bachelor of science in business economics from Indiana University, and a law degree from Georgetown University in Washington, D.C. He has been Louisville's mayor for 21 of the past 25 years.
He has served as president of the U.S. Conference of Mayors, and has been recognized as America's Local Public Official of the Year by Governing magazine, one of the nation's top mayors by Newsweek and U.S. News & World Report, and as Kentucky's best civic leader by Kentucky Monthly.
About Bellarmine
Bellarmine University is an independent Catholic university offering more than 50 majors, as well as graduate degree programs, a doctor of nursing practice and a doctor of physical therapy. U.S. News & World Report and the Princeton Review consistently rank Bellarmine among America's best institutions for higher education. The university is celebrating 60 years of academic excellence for lives of leadership and service.
Media Contact:
Jason Cissell
Director of Media Relations
502-272-8329
jcissell@bellarmine.edu