News
>
News Releases
> Bellarmine Hosts Free Symposium on Science Behind Climate Change
Bellarmine Hosts Free Symposium on Science Behind Climate Change
September 5, 2012
Educational materials available for teachers
In public discussions about climate change, opinions abound, but authenticated information is harder to come by. Setting the policy debates aside, it is important to ask, what have scientific researchers learned about the current state of our climate, how do they collect data about the seas and atmosphere, and how do they test their conclusions?
In an effort to fill this information gap, Bellarmine University's
Center for Regional Environmental Studies
is hosting a free public symposium on climate change, Saturday, September 22, from 9 a.m. to 3 p.m. The event takes place in the George G. Brown Center's Frazier Hall.
Advance registration, available online, is required.
The symposium, funded by a grant from NASA Kentucky's Experimental Program to Stimulate Competitive Research is open to anyone wishing to hear directly from scientists involved in climate change research. Teachers attending the event will receive free educational materials based on national science standards and designed for classroom use. Professional Development credit for JCPS teachers will be offered, pending final approval by the district.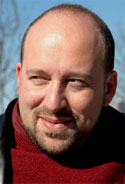 Dr. Gavin Schmidt
The keynote speaker is
Dr. Gavin Schmidt
, a climate scientist at NASA's
Goddard Institute for Space Studies
. Schmidt co-authored "Climate Change: Picturing the Science" in 2009, and received the American Geophysical Union's inaugural climate communications prize in 2011, for his efforts to educate the public about scientific research related to climate change.
Dr. Keith Mountain, a climatologist at the University of Louisville, will discuss what his research on Arctic ice reveals about past climatic conditions.
In the afternoon, participants can attend one of three concurrent sessions:
A workshop for K-12 educators, led by Bellarmine's Dr. Kate Bulinski.
An interactive teleconference with scientists from the NASA Jet Propulsion Laboratory's Center for Climate Sciences.
A panel discussion on the biological effects of climate change, led by Claude Stephens, education director for Bernheim Arboretum and Research Forest.
"Our goal is to share with educators and the public what scientific study has revealed about global climate change and its biological implications," said Dr. Robert Kingsolver, founding dean and director of Bellarmine's Center for Regional Environmental Studies.
Breakfast is included with the program. The symposium will adjourn for lunch, which participants can purchase from Bellarmine's University Dining Hall or enjoy on their own.
About the Center for Regional Environmental Studies
Bellarmine University's
Center for Regional Environmental Studies
was founded in 2009. The center supports an undergraduate program in environmental studies, campus-wide initiatives in environmental sustainability, new research agendas and the Bellarmine Farm, which provides fresh produce for the University Dining Hall. It is also an important step toward the realization of Vision 2020, the university's bold plan to be the premier independent Catholic university in the south and the leading private university in the Commonwealth and region.
SYMPOSIUM SCHEDULE
9 a.m.
Complimentary continental breakfast
10 a.m.
Dr. Keith Mountain, University of Louisville
Climate Clues in Glacial Ice
11 a.m.
Keynote: Dr. Gavin Schmidt, NASA Goddard Institute for Space Studies
What Are Climate Models Good For?
Noon
Lunch, on your own (University Dining Hall is open)
CONCURRENT AFTERNOON SESSIONS (choose one):
| | |
| --- | --- |
| 1-3 p.m. | Workshop for K-12 educators |
| 1-2 p.m. | Virtual meeting with JPL climate scientists |
| 1-2:30 p.m. | Panel discussion: biological effects of climate change |
Media Contact:
Jason Cissell
Director of Media Relations
502-272-8329
jcissell@bellarmine.edu