News
>
News Releases
> Former Louisville Mayor David Armstrong to Speak at December Commencement
Former Louisville Mayor David Armstrong to Speak at December Commencement
December 3, 2012
Armstrong and alumnus Bradford Ray to receive honorary degrees
Bellarmine University's December commencement ceremony will include an address by
Kentucky Public Service Commission
Chairman David L. Armstrong, a former Louisville mayor and Jefferson County judge-executive.
Armstrong will also receive an honorary doctor of law degree. Bradford T. Ray, recently retired chairman and chief executive officer of
Steel Technologies
and a Bellarmine alumnus, will receive an honorary doctor of humane letters degree.
During the commencement ceremony -- on Wednesday, December 19, 2012, at 6 p.m. in Knights Hall -- approximately 216 undergraduate and graduate students are expected to receive their degrees.
David L. Armstrong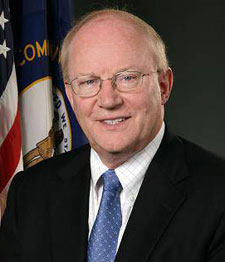 David L. Armstrong
Kentucky Gov. Steve Beshear appointed Armstrong chairman of the Kentucky Public Service Commission in 2008, and reappointed him in 2011 to a term that will end in 2015. Before joining the commission, Armstrong worked at the former Greenebaum Doll & McDonald law firm in Louisville.
Armstrong has had a lengthy career in government, beginning as commonwealth's attorney for the 30th Judicial District from 1976 to 1983. He was Kentucky's attorney general from 1983 to 1988 and Jefferson County judge-executive from 1989 to 1999. Armstrong then served as mayor of Louisville from 1999 to 2003.
Armstrong has served in many leadership positions, including president of the National Council of County Executives, chairman of the Southern Conference of Attorneys General and president of the National District Attorneys of America. He was named Kentucky's Outstanding Mayor in 2002, and Louisville was twice named a Most Livable City in America during his tenure.
Bradford T. Ray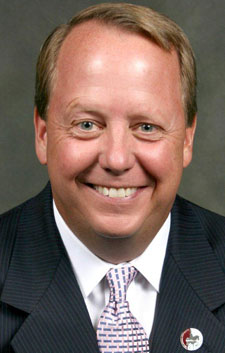 Bradford T. Ray
Ray, known fondly as "the man of steel," worked his way to the top of the steel company founded by his father, beginning with weekend and summer work at what was then known as Southern Strip Steel. He went to work full-time for the company in 1981, following his graduation from Bellarmine with a bachelor of arts in business administration.
After a move to Detroit to start a new steel processing facility for the company, he returned to Louisville in 1987 as vice president of manufacturing for Steel Technologies, which changed its name when it went public in 1985. In 1990, he was named president of Mi-Tech Steel, a joint venture between Steel Technologies and Mitsui and Co., the largest steel-trading company in the world.
In 2000, he was named chairman and chief executive officer of Steel Tech, which is now an international steel processing business with more than 2,000 employees in 25 manufacturing facilities throughout the United States, Mexico and Canada, and over $2 billion in annual revenue. After 29 years of service to the company, Brad retired from Steel Tech in 2010 and now runs an advisory company.
He has consistently supported Bellarmine throughout his career, by serving on the university's Alumni Board and on its Board of Trustees, agreeing to serve as chairman even as his family's company was going through tremendous changes. He is a member of the university's Gallery of Distinguished Graduates and Bellarmine's 2007 Alumnus of the Year.
Previous Recipients
Previous recipients of honorary Bellarmine degrees include Kentucky Gov. Steve Beshear, Indiana Gov. Mitch Daniels, former Louisville mayor and current Kentucky Lt. Gov. Jerry Abramson, broadcaster Bob Edwards, New York City Ballet principal dancer Wendy Whelan, Maker's Mark chairman emeritus Bill Samuels Jr., celebrated writer and farmer Wendell Berry, and "Dead Man Walking" author Sister Helen Prejean.
Media Contact:
Jason Cissell
Director of Media Relations
502-272-8329
jcissell@bellarmine.edu