Bellarmine entrance to feature 3 1/2-story St. Robert's Gate
May 1, 2013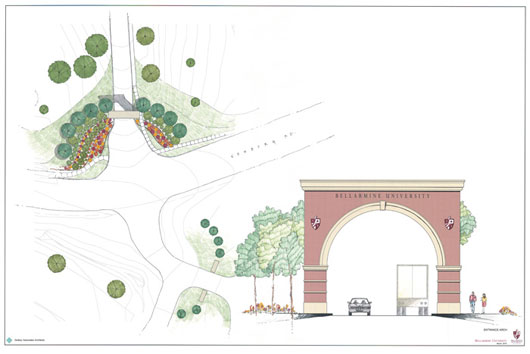 click to enlarge
Visitors to Bellarmine University's campus will soon pass through St. Robert's Gate, a new 3 1/2-story entry arch at the university's Newburg Road entrance.
ST. ROBERT'S GATE


Height: 36 feet (3 1/2 stories)
Width: 45 feet
Depth: 8 feet, 8 inches at the top; 6 feet at ground level
Weight: approximately 200 tons

Features:
St. Robert's Gate is made of precast concrete with a brick finish. It bears the university's name and seal. The gate will be illuminated, and has an interior ladder system for electrical maintenance. The arch is large enough to accommodate tractor-trailers and oversized loads.

Design & Fabrication: Arban & Carosi
Structural Engineer: Tom Hanson Associates
Architectural Design: H. Carleton Godsey, Godsey Associates Architects

The concrete gate is being donated by Bellarmine alumni Nick and Gincy Carosi, along with
Arban & Carosi
, an architectural precast concrete firm in Virginia. It will rise 36 feet near the bottom of Bellarmine Boulevard. It honors the university's namesake, St. Robert Bellarmine (1542-1621), a Jesuit Cardinal who was canonized in 1930.
"Grand entrance arches are a major feature of the beautiful hill towns in Italy's Tuscany region, including St. Robert Bellarmine's home town of Montepulciano," said Dr. Joseph J. McGowan, Bellarmine's president. "Hospitality -- in its deepest sense -- is an exceptionally important value at Bellarmine University, as we regularly welcome new ideas, new perspectives and new people. A grand entrance arch is a compelling symbol of such hospitality. I'm so grateful to the Carosis for sharing my passion for this project, and for making St. Robert's Gate a reality."
Installation of St. Robert's Gate will take place beginning May 6, with the Newburg Road entrance to Bellarmine's campus closed for much of the week. Traffic along Newburg Road will be unaffected. During installation, all traffic will enter and exit the campus on Norris Place.[
campus map
]
Once installation is complete, finishing work and landscaping will continue for about a month.
The Carosis met and fell in love at Bellarmine – Nick graduated in 1969, Gincy in 1970. Nick Carosi is President of Arban & Carosi. The company's roots date back nearly 100 years, as a partnership between two Italian sculptors and plaster artisans, one of whom was Nick's grandfather. The firm's artisanship appears throughout Washington, D.C., in buildings such as the Library of Congress, U.S. Capitol Rotunda, Union Station, Jefferson Memorial and the National Gallery of Art.
"Bellarmine University is one of the best-kept secrets in the country," said Nick Carosi. "The gate, which I must say is a vast engineering feat, will provide some visibility and a welcoming feel for the campus, creating the feeling that you're entering a special place. I think it will be beautiful."
"We hope that, as generations of Bellarmine students pass through this gate in search of knowledge and friendship, they will find in their respective journeys not only these things but even more to assure happiness, joy and fulfillment throughout their lives," said Gincy Carosi.
McGowan noted the significant role the gate will play in key events for Bellarmine's students. "Prospective students will first pass through the gate during their tour of our campus," he said. "They will cross under the gate as they matriculate into the university and begin their studies, their loved ones will enter through the gate when they arrive to celebrate graduation, and graduates will return through the gate as alumni as they visit campus to celebrate reunions, attend basketball games and mentor future students."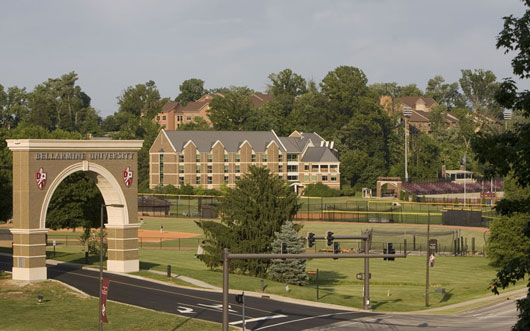 Media Contact:
Jason Cissell
Director of Media Relations
502-272-8329
jcissell@bellarmine.edu