News
>
News Releases
> Bellarmine dedicates nation's first endowed physical therapy service learning clinic
Bellarmine dedicates nation's first endowed physical therapy service learning clinic
October 6, 2013
Gift from Michael E. Hobbs will support clinic in perpetuity
Bellarmine University has opened the nation's first endowed physical therapy service learning clinic on its campus, to prepare students in its acclaimed
Doctor of Physical Therapy
program for careers of leadership and service.
The endowment for the newly-named Michael E. Hobbs Service Learning Clinic, in a new location on the first floor of Nolen C. Allen Hall, allows Bellarmine to purchase equipment and supplies to enhance its physical therapy community service programs. The gift also supports expanded faculty and student community engagement projects.
A
19,500-square-foot expansion of Allen Hall
earlier this year created expanded classroom and laboratory space for the physical therapy program.
Hobbs, a 1971 Bellarmine graduate who returned to the university to earn an MBA in 1983, is the owner and CEO of
Engineered Glass Products
in Chicago, and a member of Bellarmine's board of trustees. He helped found
LIFT
, a non-profit organization that supports youth education and leadership development in India.
"There is such a great energy in the physical therapy program, and I'm impressed that the clinic takes learning beyond the classroom into the community," said Hobbs. "When I arrived at Bellarmine from Flaherty, Ky., as a student, I never in my wildest dreams thought I would be in a position to help the school. So, I am thrilled to help the fantastic students and faculty in the physical therapy program, and so pleased that they'll be able to multiply the value of what I gave, for years to come, through their healing work in the community."
"Thanks to Mike's leadership and generosity, the Hobbs clinic will operate with this funding stream in perpetuity, contributing valuable hands-on experience to generations of physical therapy students," said Dr. Joseph J. McGowan, Bellarmine's president. "The clinic is the centerpiece of service learning in the physical therapy program. From this clinic, physical therapy students and faculty will continue and expand pro bono service to the community, and extend the outreach of the Bellarmine campus throughout the city and region."
Dr. Mark Wiegand, dean of the
Donna and Allan Lansing School of Nursing and Health Sciences
, noted that the physical therapy program is developing a national reputation for its focus on service, as he's found through his conversations with prospective students when they apply for the program. Last year, the pro bono value of the program's community service efforts exceeded $60,000, according to Wiegand.
"The Doctor of Physical Therapy program's faculty believe that service learning provides the best possible opportunity for the program to meet its mission, and support the mission and vision of Bellarmine University," said Wiegand. "Service learning also allows faculty to intentionally and effectively integrate teaching, scholarship and service. Service learning embedded into the professional curriculum helps students develop a service ethos and allows faculty to meet university performance expectations in a mission-driven manner consistent with Catholic higher education traditions."
In addition to the Hobbs clinic, which serves members of the extended Bellarmine community, the Lansing School incorporates service into its physical therapy program through three other initiatives:
At the Catholic Enrichment Center, 3146 West Broadway, physical therapy faculty and students serve clients weekly.
In partnership with the Mayor's Healthy Hometown initiative, Lansing faculty provide diabetes education and exercise programs through "Active Steps for Diabetes Education" at Park DuValle Community Health Center, 3015 Wilson Avenue.
On Bellarmine's campus, the "Let's Dance!" program, in partnership with the Parkinson's Support Group of Kentuckiana, allows individuals with neuromuscular disorders and their spouses to participate in therapeutic dance movement activities.
Growth of physical therapy program
The Lansing School also received an anonymous $375,000 gift this fall that will add an additional full-time professor to the physical therapy program, tasked with developing a post-doctoral clinical residency program that will provide additional educational opportunities for Bellarmine students, with an emphasis on care for the elderly. In addition, a northern California couple recently gifted $50,000 in seed money for a leadership initiative that will further enhance the national reputation of Bellarmine's Doctor of Physical Therapy program.
Nationally, there are about 200,000 licensed physical therapists, with only 1,560 board-certified in the treatment of older adults. Only 14 of those board-certified physical therapists work in Kentucky; five work with or are on Bellarmine's faculty. Bellarmine's Doctor of Physical Therapy program currently has 14 faculty members including several who have board-certifications in other specialized areas such as electrophysiological, neurological, orthopaedic, pediatric, and sports physical therapy.
Bellarmine's Doctor of Physical Therapy program prepares students for licensure and practice in the field of physical therapy. Candidates for licensure must hold a post-baccalaureate degree in physical therapy from an accredited institution. Students are admitted to the professional program after completing a bachelor's degree in their major of choice, along with all program prerequisites.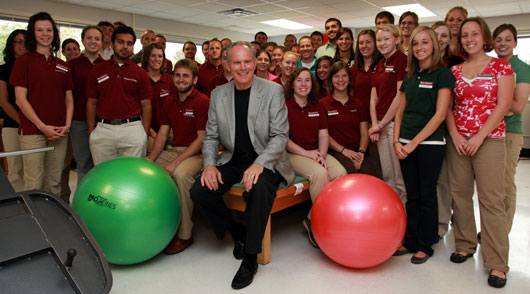 Donor Michael E. Hobbs with physical therapy students.
Media Contact:
Jason Cissell
Director of Media Relations
502-272-8329
jcissell@bellarmine.edu